Tree Service from Chino Hills, CA
Trees are a great addition to any property because of their beauty and longevity. However, trees can also be dangerous for people living on your property if they aren't taken care of properly. The tree services experts at Trees Services of Chino Hills have the knowledge and expertise to give you peace of mind by providing tree services such as stump grinding, stump removal, tree cutting, residential tree service, arborists, and more.
Tree Services of Chino Hills helps homeowners with their tree services. We can help you decide on the best type of care for your trees or provide you with a free estimate. Whether it's pruning, trimming, stump grinding, or any other service that needs to be done in order to keep your property safe and healthy – our skilled professionals can handle it all. 
If you are interested in Chino Hills tree services, contact us at 909-442-1340 and get free estimates.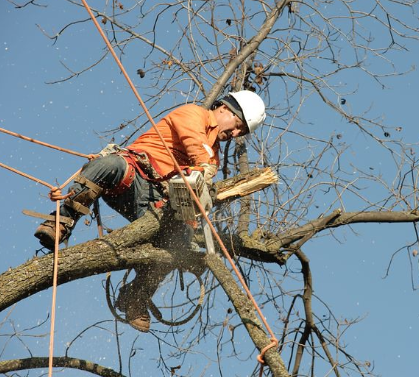 Tree Services in Chino Hills, California
Bush Trimming 
Bush Trimming is the process of removing branches from a bush or other small trees. This service can be used to create visual interest in your garden, remove plants that are invasive and cause damage to nearby plants, or just for yard clean-up purposes. When working with us, you can get your bushes trimmed and shaped to be the perfect yard addition. 
Stump Grinding 
The process of grinding down tree stumps after they have been removed from a property, in order to keep them from growing back or becoming something that needs removal again. This is usually done with power saws or grinders. Stumps may also need this service if they are considered an eyesore for any reason- which means that it will make the land more aesthetically pleasing when you hire us. We know how important beauty is so we'll help take care of those nasty-looking stumps before anyone has to see them again.
Tree Doctor  
Tree doctor is the process of caring for trees and shrubs. It includes fertilizing, pruning, trimming, removing diseased branches or other tree parts that could be harmful to surrounding plants or people. Our tree doctors are professionals who have specialized training in arboriculture- which means they know how to make your yard look fantastic.
Tree Chipper  
A Tree Chipper is a machine that chops up trees, branches, and other woody debris into chippings. It can be used to recycle the waste from tree cutting or deforestation for use as mulch in gardens and landscaped areas. This service makes it so you don't have to spend hours with an ax chopping down your own trees- which could get dangerous if not done properly. Our professionals will take care of everything for you.
Residential Tree Service 
We offer residential customers services such as stump grinding, pruning, trimming, emergency response, and more- making us one of the most trustworthy companies in California. We are able to provide quality work at affordable rates because we understand how expensive these types of jobs can be for homeowners.
Tree Pruning 
This service removes dead limbs from your yard so it doesn't harm surrounding plants or people when it falls out of the sky in an unpleasant way. It also helps promote healthy growth by removing excess foliage that could be blocking sunlight from reaching certain areas. If you want to make your trees look their best and be healthy- then this service is for you!
Tree Removal 
If there are a few or many, our tree professionals can take care of it all with ease. We have experience when removing large numbers of trees from residential property because we know how important it is to get the job done quickly while also being careful not to damage anything surrounding them. Tree removal isn't always easy but at  Tree Services of Chino Hills, we've mastered the art form so that homeowners don't need to worry about any accidents happening on their property ever again.
What Makes Tree Services of Chino Hills Unique?
Tree Services of Chino Hills offers a full range of tree services. Our team can handle any job that a customer might need to be done and with the highest quality possible to make sure you are satisfied.  We also take pride in being one of the most affordable tree service companies around.  We know how hard it is to find the funds for service so we work with you every step of the way. 
Feel free to contact us at 909-442-1340 or message us through the contact form on this page to get free estimates.