Tree Lopping in Chino Hills, CA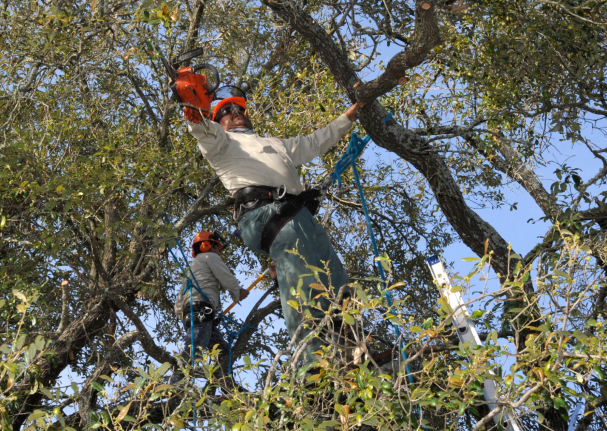 Way out east of L.A. is Chino Hills, a city of green hills, shady streets, and healthy trees.
Tree Services of Chino Hills believes itself partly responsible for the latter. After all, we've been caring for trees all over San Bernardino County for lots of years. And when it comes to tree lopping there is no company you should trust more.
Our crew delivers the finest results in tree lopping, and we're backed by a rock-solid reputation.
Tree Lopping 101
Tree lopping is the selective cutting of trees to remove certain branches, usually for the benefit of the tree's health or outward show. The practice is also sometimes called heading, tipping, or stubbing. It's important to note that tree lopping is different from topping, which is the indiscriminate removal of large branches from the tree's canopy. Lopping is also done on trees that have grown too large for their environment.
There are a number of reasons why you might need tree lopping services. Maybe your tree has suffered storm damage and needs to have some broken or hanging branches removed. Maybe it's growing into power lines or pressing on the window pane. Or maybe it just needs a little shaping to better blend with your home's landscape.
Whatever the reason, our experienced tree loppers will get the job done quickly and efficiently. We use the latest techniques and equipment to ensure that your tree is left looking natural and healthy. And we take care to protect your property from any damage during the process.
Isn't Tree Lopping Considered Immoral?
The indiscriminate topping of trees is, indeed, considered immoral by many tree care experts. But done correctly, tree lopping can actually extend the life of your tree. It can also provide much-needed clearance and improve the look of your landscape.
Of course, not all cases require tree lopping services. Sometimes a tree can be trimmed or pruned to achieve the same results. Our tree experts will be able to assess your needs and recommend the best course of action.
Tree Lopping Fees
The cost of tree lopping services will depend on the size and type of tree, as well as the amount of work required. In most cases, we can give you a price estimate over the phone.
You'll find our prices fair and our workmanship second to none. We perform both formative and remedial tree lopping, and we're confident that we can meet your needs. Contact us today for a free consultation.
What Are The Different Kinds Of Tree Lopping?
There are two main types of tree lopping: formative and remedial. Formative tree lopping is done to young trees in order to shape and train them as they grow. Remedial tree lopping is done on older trees that may be damaged, diseased, or otherwise in need of pruning.
Tree Services of Chino Hills offers the best tree lopping services in Chino Hills. We have years of experience and use the latest techniques to get the job done right. Contact us today for a free estimate.
If your tree is in need of pruning, we can help. Our formative/remedial tree lopping services are designed to improve the health and appearance of your tree. We'll work with you to determine the best course of action and provide a free estimate.
Contact us today at 909-442-1340 to get started.