Chino Hills Stump Grinding
Stump Grinding

in Chino Hills, CA
Many homeowners are unaware that they have a stump on their property. These stumps can be very damaging to the landscape and, in some cases, lead to costly repairs. They also pose a high risk for injury when someone falls into them while mowing or gardening. One of the best ways to deal with these hazards is by calling in one of our Chino Hills-based tree service experts who will remove the stump and grind it into dust so you don't need to worry about any future damage from this problem.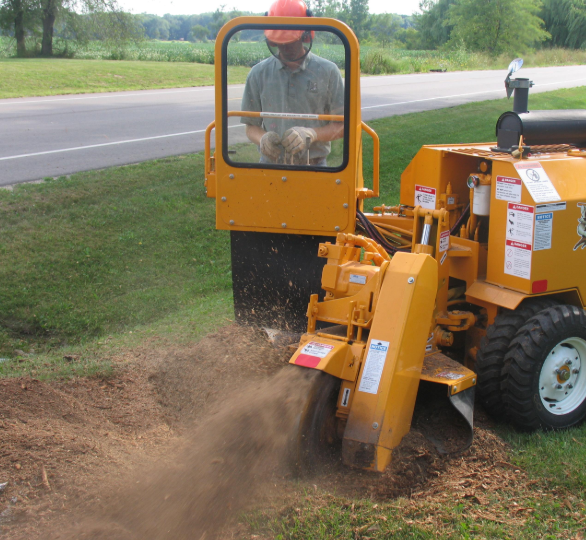 About Tree Service of Chino Hills
Tree Service of Chino Hills has been in the tree and stump grinding business in Chino Hills, Ca for years. We have a team of professional technicians who are experts at their trade, providing you with excellent service every time. Our team is able to grind down your stumps so that they are small enough to fit into your garbage can and take them away without any hassle or mess. With our help, we'll make sure that all traces of your tree will be gone from the property – because when it comes to Tree Service of Chino Hills, there's no job too big or too small.
Give us a call at 909-442-1340 or message us through the contact form on this page to get free estimates.
What is Stump Grinding?
Stump grinding is the process of removing the stump from your property and turning it into dust. This process is completed by using a stump grinder, which spins blades at an incredibly high speed to grind the wood and turn it into dust. The tree service experts at Tree Services of Chino Hills have many years of experience with this procedure, so you can rest assured that we will perform all aspects of this job quickly and efficiently. 
What are the Benefits of Stump Grinding?
There are many benefits of stump grinding. First, it is the best way to make sure that your yard stays safe from potential hazards or safety issues. The trees in your landscape won't be as susceptible to damage because there will no longer be any roots or other obstacles nearby. Secondly, it gives you an opportunity to get rid of a tree without any mess – because our team will grind up and take away all traces of the tree after we're done! You'll be happy with our services if you want something quick and easy that doesn't produce a lot of waste when completed.
The benefits of stump grinding are endless – but one thing is certain: it's the best way to make sure that you don't have any future problems with an old tree in your yard. If there are any trees near yours that need removal, then we're ready to take care of them for you – just ask about Tree Service of Chino Hills' services today.
Contact us at 909-442-1340 to get free estimates and quotes.
What can you do with a Stumped?
There are many things that you can do for your property after tree service has been performed. One option is planting grass over the area where the stump was removed so there isn't any evidence of its existence left behind. Another option is to turn the area into a garden. Tree Services of Chino Hills is happy to help you with whatever your needs are, and we'll leave the property looking as good as new.
Tree Services of Chino Hills Services Offered
You don't have to worry about your tree service needs any longer. Tree Service of Chino Hills is here for you. We offer a wide range of services that are sure to meet all of your needs, including stump removal, tree pruning, tree doctor, tree cutting, residential tree service, commercial tree service, arborists, tree chipper, and bush trimming. Call us today at 909-442-1340 for more information on our services. Dial now to get free quotes and estimates.
Why Choose Tree Services of Chino Hills
If you're looking for someone who can get rid of those stumps safely and effectively without costing too much money, then Tree Services of Chino Hills is the perfect place to go. We offer high-quality service at a low cost with no hidden fees or upcharges, and we are always happy to help with any questions that come up along the way. Whether you need residential care or commercial care, we can help you with our expertise. Call us today at 909-442-1340 for more information about Tree Services of Chino Hills.